Jaipur depot fire: How it happened

NDTV Correspondent
, Friday October 30, 2009, Jaipur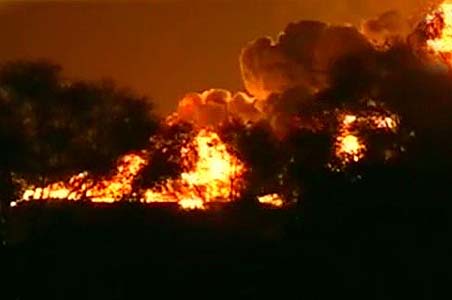 The massive fire that erupted at the Indian Oil Corporation's fuel depot in Jaipur on Thursday night is still raging.

How it happened:

6.45 pm, Thursday: A leakage was detected in IOC depot in Jaipur. For next 40 minutes engineers tried to repair it.

7:30 pm, Thursday: The first container exploded, causing a mild quake measuring 2.3 on the Richter scale

8:00 pm, Thursday: The fire became uncontrollable; 40-feet high flames in the night sky; buildings 1km away damaged

9:00 pm, Thursday: Entire area evacuated; huge traffic jams on Jaipur-Kota highway, which passes through Sitapura

10:30pm, Thursday: All 11 containers exploded, each turning into an inferno.

11:30 pm, Thursday: Intensity of fire began to drop. Flames were as high as 20 feet high.

12:00 am, Friday: Fire raged all night, the strategy now was to let the fuel burn out.

7:30 am, Friday: Fire experts from Mumbai, Mathura arrive

8: 00 am, Friday: Fire in smaller containers down by 30-40% of what it was last night.
Source
more
more
Re: Jaipur Blast ? Think.
As per the report from TOI this is due to the leakage in pipe that orders short circuit or the spark form the terminal that created the blast. If this is the case then why flameproof products are installed. They say that disaster management system or rather we say flameproof products were not installed properly. Public safety is something that everyone is paying close attention, after all, people always say that safety comes first. However, what is one thing that people don't think a lot about, but it saves the most lives? Well that one thing would be flameproof related products. Let's fact it, one mistake in such industries can create a disaster, the example is in front of you i.e. the resent Jaipur IOC blast. So why we should compromise on flameproof products. What we believe is that we should not compromise with our life, so now how this flameproof product save our life's? Well the truth of the matter is that flameproof product is the specially designed for use in hazardous areas prevailing in refineries, petro-chemical and chemical industries and underground coal mines, and even pharmaceutical industries etc where explosive gases or even spark are evolved or are likely to be evolved during normal working conditions. By knowing what is flameproof, and by actually going out and doing it, we can save millions of lives all over the world. Every year, tons of people are killed by fire across the world. By doing this we can not only save lives, but live a life that is a little bit more carefree. Flameproofing is one of those things that you should never take lightly. After all, this is something that could save our life at the end. Anything that has to do with human safety is a topic that needs to be handled with the up most care and respect.
Regards,
Tapan Patel
SOURCE